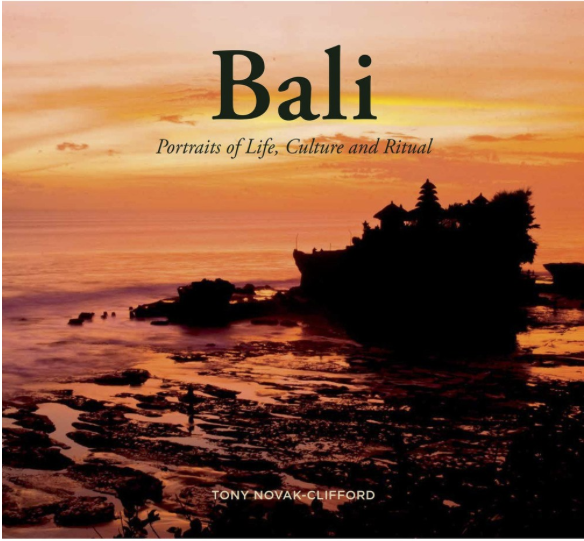 Bali: Portraits of Life, Culture and Ritual
Join photographer Tony Novak-Clifford as he introduces you to the people, places and devotional rituals of the world's most gorgeous culture in Bali, Indonesia. Through his photographs and brief anthropological essays, collected over 30 years of nearly annual visits to the island, you will stray far off the well-beaten tourist route and into the homes, temples and ancient rituals & mysticism of the Agama Hindu Dharma practicing Balinese people. Illustrated with over 120 sumptuous color and black and white photographs, this book is a must own collection for everyone interested in Bali and the Balinese culture that lies beyond the enclaves of tourism.
HARDCOVER, DUST JACKET
Linen cover with full-color dust jacket and flaps
Category:

Arts & Photography Books

Size Large Format Landscape, 11.5"x11"
128 Pages

ISBN: 978-0-692-17503-3

Publish Date Apr 13, 2018

Language English

Tuttle Publishing

Printed in South Korea
For a limited time, signed and numbered copies available direct from the author at the discounted price of $40 + $15 Shipping (USPS Priority Mail to anywhere in the USA - Hawaii Residents at 4.167% Tax). Email me for more information at:
tony@tonynovak-clifford.com
Also now available online at Amazon.com and other fine online booksellers
"Clearly the spiritual journey revealed through Tony's lens is magic show as much as travelogue. For all the beauty it captures, his camera makes invisible things visible." - Rick Chatenever, Maui News Review - May 29, 2018
"Luscious color and insightful stories told from the inside out. Tony Novak Clifford's beautiful new book "Bali" arrived today in all it's splendor. So glad this project came together as beautifully as it did." - Timothy Archibald, Photographer
Rising Tides: A Photographic Rediscovery of the Chesapeake Bay Tidewater Region
Raised on Maryland's Eastern Shore, a unique region surrounded by water and separated in time, Tony Novak-Clifford left family and childhood friends behind to explore the world. Four decades later, after roaming the globe as a commercial & editorial photographer, Tony returns to focus his lens on the places and people that helped shape his world-view.
Join him as he focuses on the environments and people of his childhood as he rediscovers an area both familiar and strangely foreign after years of absence. From the historic Districts of Annapolis, the State Capitol of Maryland, over the great Bridge and across the Chesapeake Bay, through marshes and rivers to the beaches of the Atlantic, Tony's rediscovery of a land rich in history, tradition and down-home charm has rekindled both his respect and his love for this remarkable piece of America.
HARDCOVER, DUST JACKET
Linen cover with dust jacket and flaps
Category: Arts & Photography Books

Landscape Format, 8.5" x 9.5" 108 Pages

ISBN:978-00-678865-9

Publish Date: Aug. 31, 2021

Laguage: English

Publishing: Kokomo Road Productions

Printed in USA
Signed and numbered copies available direct from the author at the discounted price of $65 + $10 Shipping (USPS Priority Mail to anywhere in the USA - Hawaii Residents at 4.167% Tax). Email me for more information at:
tony@tonynovak-clifford.com